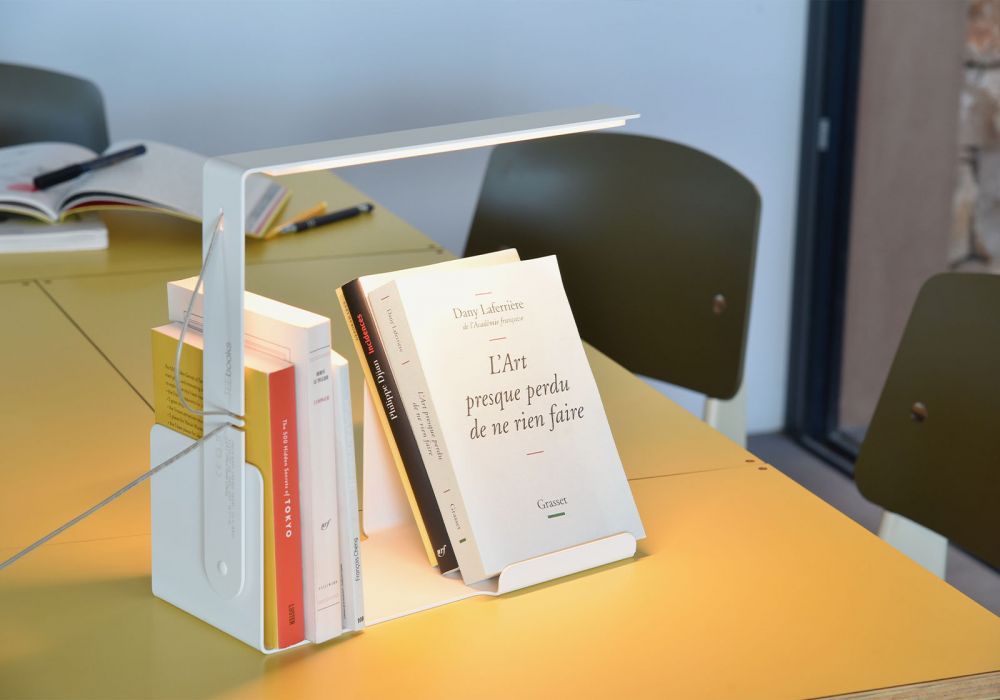 Table lamp - Book holder - White
Table lamp - Book holder - White
Bring a sophisticated glow to your reading with our innovative table lamp. Featuring a clever shelf support, it combines functionality and aesthetics by illuminating your books while adding a pleasant touch of light.
Shelf dimensions: 15 cm deep, 12 cm high, 30 cm long.
The lamp arm houses 28 x 0.5 W LEDs for efficient, energy-saving lighting.
2 metre cable with transparent switch and transformer included.
Made from top-quality FE 360 DC01 steel for exceptional durability.
Finished in white epoxy paint for a refined look.
A practical, stylish accessory that's the perfect addition to your everyday life.
Others products in the same category
Depth

15 cm

Height

12 cm

Lenght

30 cm

Capacity

10 kg

Painting

Matt Epoxy

Material

Acier FE 360 DC01
Brightness and Organization with the White Book Holder Table Lamp
Perfectly designed to enhance your reading experience, our Table Lamp - Book Holder - White is the ideal accessory to illuminate your moments of literary relaxation. Thanks to its innovative design, this lamp harmoniously combines lighting and storage space, creating an environment conducive to intellectual exploration and relaxation. Whether you're immersing yourself in a captivating novel or working on important documents, this versatile table lamp will meet your needs while adding an aesthetic touch to your space.
Lighting – practical 2-in-1 bookcase design 
The integrated shelf offers a generous depth of 15 cm, a height of 12 cm and a length of 30 cm, providing ample space to organize your favorite books within easy reach. The lamp arm is equipped with 28 LEDs of 0.5 W each, providing efficient, energy-saving illumination. The 2-meter cable features a convenient transparent switch, making it easy to control the light, and the transformer ensures reliable performance. 
Illuminate and beautify: White Table Lamp with Integrated Shelf
Precision-built from high-end FE 360 DC01 steel, this Table Lamp - Book Holder - White combines durability and style. The white epoxy paint finish lends a timeless elegance that blends harmoniously with a variety of interior decors. In addition to its practical functionality, this lamp adds an aesthetic touch to your space, creating a warm and welcoming ambience. Whether illuminating your nightly reading moments or adding a touch of charm to your living space, our Table Lamp - Book Holder - White is the perfect addition to your daily routine, combining practicality and beauty uniquely.
How to fix a wall shelf ?
All wall types
How to fix a wall shelf ?
Plasterboard wall
How to fix a wall shelf TEEall 100 cm?
How to fix a wall shelf TEEall 50 cm?
Our customers also like
Price

£29.00

Regular price

£39.00

-£10.00

Price

£69.00

Regular price

£75.00

-£6.00

Price

£98.00

Regular price

£118.00

-£20.00

Price

£59.00

Regular price

£72.00

-£13.00

Price

£68.00

Regular price

£136.00

-£68.00

Price

£42.50

Regular price

£85.00

-£42.50

Price

£354.00

Regular price

£432.00

-£78.00

Price

£44.00

Regular price

£88.00

-£44.00

Price

£88.00

Regular price

£176.00

-£88.00
Others products in the same category
Price

£99.00

Regular price

£120.00

-£21.00

Price

£109.00

Regular price

£140.00

-£31.00