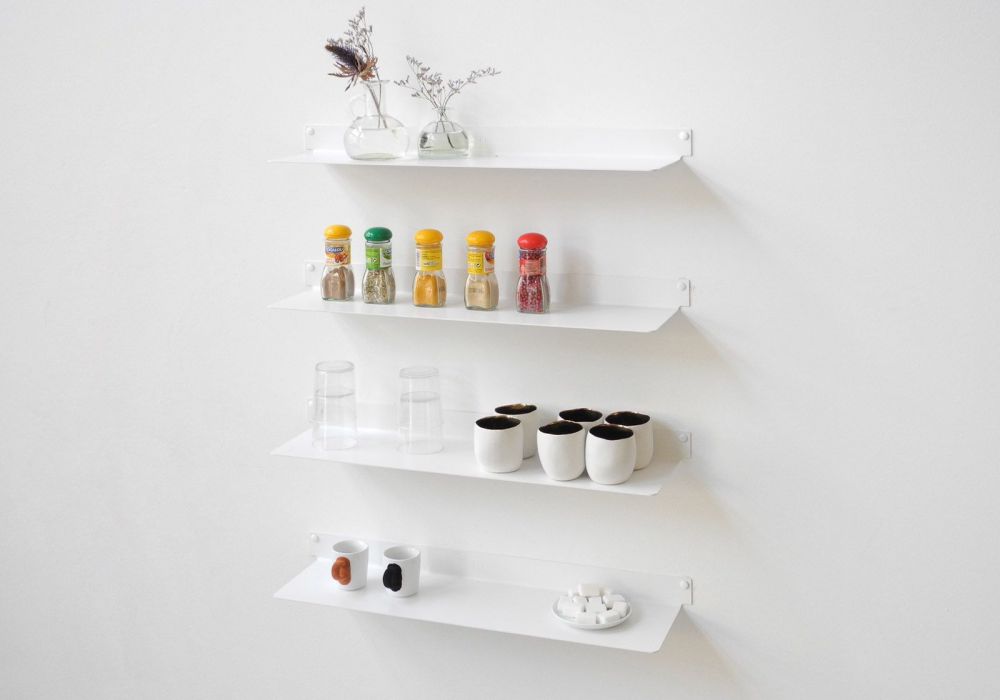 TEEline 6015 Kitchen shelves - Set of 4
Set of 4 Kitchen shelves 
The TEEline 6015 wall shelf is a floating shelf for the home or for the office.
Dimensions: 15 cm deep, 60 cm wide and 5 cm high.
Material : FE 360 DC01 steel.
Each shelfan support up to 20 kg.
Screws and plugs included.
Elegant and discrete style
Depth

4 x 15 cm

Height

4 x 5 cm

Lenght

4 x 60 cm

Weight

4 x 2 kg

Capacity

4 x 20 kg

Painting

Matt Epoxy

Material

Acier FE 360 DC01
Set of 4 TEEline 6015 Kitchen shelves 
The TEEline wall shelf does not deviate from the elegant and discrete style that is the feature of TEEbooks wall-mounted shelves. Able to be attached to the wall in the hallway, kitchen or even bathroom, the TEEline floating shelf is both functional and simple to attach. Available in 2 di erent sizes, these shelves will definitely fit in well with your interior design. 
See more kitchen shelves.
How to fix a wall shelf ?
All wall types
How to fix a wall shelf ?
Plasterboard wall
How to set up your bookcase?

Our customers also like
Price

£202.20

Regular price

£319.20

-£117.00

Price

£478.85

Regular price

£568.10

-£89.25

Price

£582.60

Regular price

£672.60

-£90.00

Price

£340.35

Regular price

£359.10

-£18.75

Price

£73.40

Regular price

£106.40

-£33.00

Price

£1,075.20

Regular price

£1,345.20

-£270.00

Price

£318.30

Regular price

£336.30

-£18.00
Others products in the same category
Price

£117.25

Regular price

£133.00

-£15.75

Price

£80.10

Regular price

£131.10

-£51.00

Price

£73.40

Regular price

£106.40

-£33.00

Price

£71.60

Regular price

£112.10

-£40.50